PRODUCT DISPLAY
water mesotherapy gun korea injector water mesotherapy meso gun
water mesotherapy gun korea injector water mesotherapy meso gunProduct DescriptionThemesotherapy gun is an advanced
产品详情
water mesotherapy gun korea injector water mesotherapy meso gun
Product Description
The mesotherapy gun is an advanced skin care tool. The principle of the mesotherapy gun is controlled by computer to use the layered, quantitative, ultra-micro-infiltration ultra-micro-infiltration technology to accurately deliver various cellular energy agents and nutrients point-to-point to the skin mesoderm, directly acting on cells and various tissues. Skin tissue is quickly absorbed.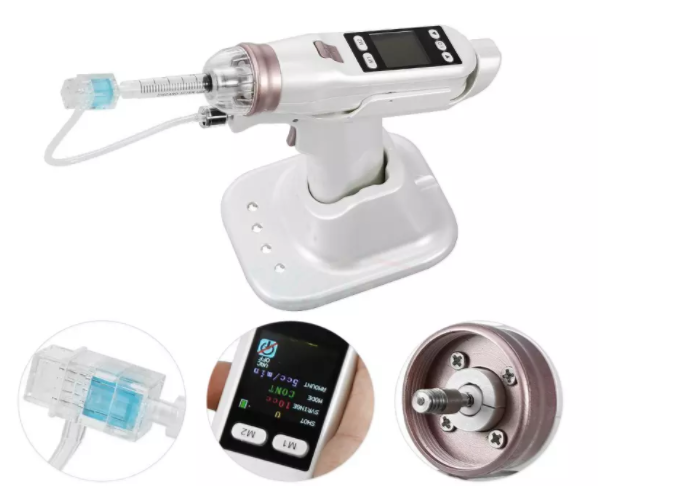 Feature
The mesotherapy gun is safe, non-invasive, painless, non-invasive, time-saving and easy to process. The beauty care is no more than 30 minutes, the economy and effect are lasting, and the general beauty treatment is incomparable.
1. The curative effect is obvious and the immediate effect is obvious during the operation.
2, fast: the needle can be stretched back and forth independently to avoid the pain of the user.
3, high precision: the speed and frequency of injection is completely controlled by the microcomputer.
4, good stability: automatic pressure adjustment syringe, electronic control depth and injection dose.
5, safety: will not cause trauma to the user, does not affect the normal life and work of the user.
6, easy to operate, easy to use.
Application
The mesotherapy gun covers almost all the items in the whole beauty, and the whole is divided into two categories: beauty and body shaping.
Beauty class:
· Pulling the skin to tighten the face
· Whitening and brightening face
· Remove wrinkles and lower eye bags
· Remove cellulite and stretch marks
· Improve facial dullness and pigmentation
· Change face and face
· Regenerate scarce hair
Body shaping
· Lose weight
· Local fat burning to lose weight
· Perfect sculpture
Related products
Contact us
If you have any question, pls feel free to contact me .